Owner / Operator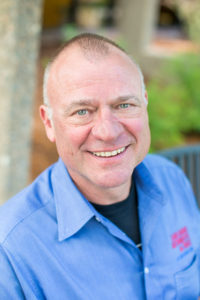 Dana TePoel has more than 30 years of automotive experience. He purchased a failing emissions-testing shop in 1992, expanded it into a full-service auto repair shop, and has served the Denver community's car-care needs with the highest degree of integrity. Lake Arbor Auto is the only full-service shop in the Denver area that offers on-site, dedicated training space for technicians plus complete diesel emissions testing. His emissions shop survived while dozens around him closed their doors when Colorado adopted the statewide, Envirotest emissions-testing program. He attributes Lake Arbor's survival to his policy of referring customers to state-sponsored clinics and his obvious willingness to "do the right thing" for customers. Dana's ethical mindset is now reflected in LAA's official slogan: "We do the right thing for you every time."
Dana is an Advanced Level Master Technician in both Gasoline and Diesel disciplines, and is an Accredited Automotive Manager with the Automotive Management Institute. He is secretary/treasurer of the Colorado Automobile Service Association, and he is active in the Regional Air Quality Control Council.
Under TePoel's guidance, Lake Arbor Auto has enjoyed an active role in the Metro North Chamber of Commerce, and the company recently joined the Denver Metro Chamber of Commerce. He became a leader in Gov. Ritter's "Maintenance Matters" campaign and completed coursework for certification in child safety seat installation; and he authorized funds for two employees to join him in that coursework.
Service Advisors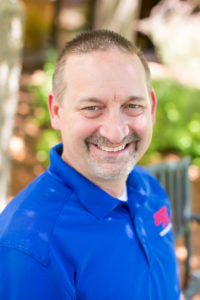 Gary Kingsbury is one of Lake Arbor Automotive's most senior employees, and he has been instrumental in helping to shape the company's vision of "Doing the Right Thing" for customers – without exception. When Lake Arbor Auto hired Gary as its No. 1 service advisor, the company was actively seeking someone with stellar core values and principles. He understands that issues are often more than just black-and-white; but the commitment to doing the right thing IS ALWAYS black-and-white. Gary goes out of his way to resolve customer-satisfaction issues and puts "doing the right thing" ahead of saving the company money.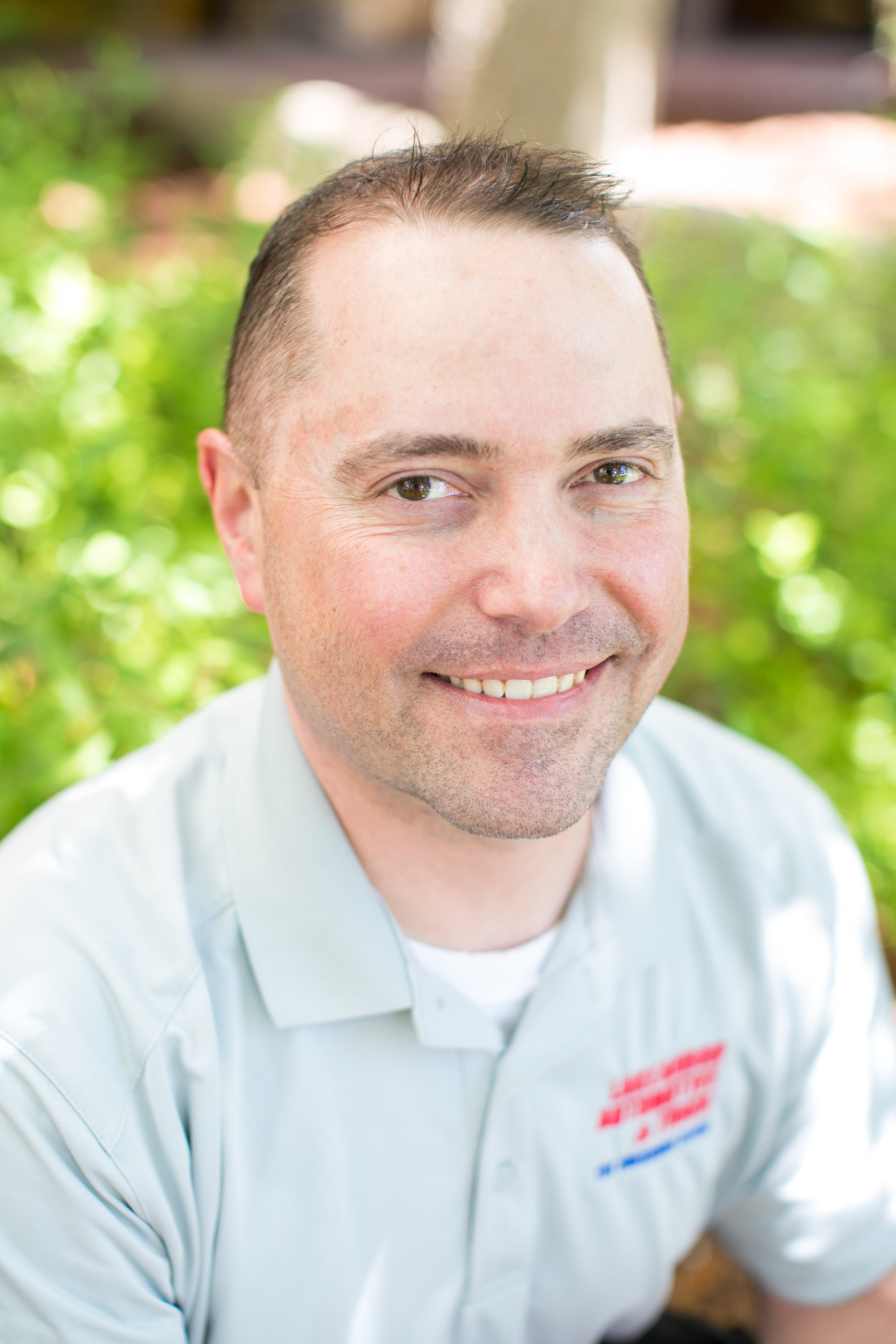 Sean Kuchera has been in the car-repair business for 19 years, and he is ready for anything that comes along, with a simple explanation for customers who want to know what's going on. One of the greatest satisfactions he gets out of his job is the knowledge that he has fully educated the customers, helping them make the most informed choices about repairs to their vehicles. He likes working in a fast-paced environment, and he likes knowing that he is entrusted to "Do the Right Thing" for customers.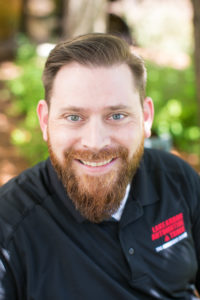 Patrick Shaver, originally from Kansas City, joined Lake Arbor Automotive & Truck as a customer service adviser in 2016. He has worked in the automotive repair and maintenance business since 1997. He enjoys playing pool and racing his motorcycle on ice. He is an expert in European and Asian autos, and he knows about classic cars that he was able to restore a 1967 Thunderbird. He enjoys repairing cars, plus anything else that needs fixing, with a special appreciation for the problem-solving aspect of the job. He gets a great sense of satisfaction out of educating customers to the point that the are able to make wise decisions about their vehicles.
Customer Service Representative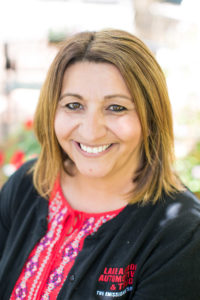 Ema Gutierrez has been with the LAA team since early 2013
Often the first face that customers see as they enter the building, Ema Gutierrez has been with the LAA team since early 2013. Her work station is immediately inside the front door, and she greets everybody with a big smile, often by first name! She was hired in part because of her friendly, outgoing attitude; but she has a good memory for details and she is able to help with administrative functions, too.
Technicians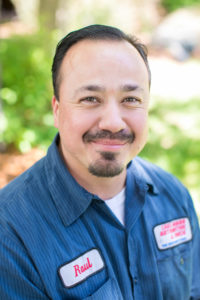 Raul Manrique has 17 years of experience in the repair and maintenance of vehicles. While he is relatively "new" to the Lake Arbor Auto team, Raul Manrique has 17 years of experience in the repair and maintenance of vehicles, and he carries an air of confidence that makes people glad he's working on their car. He is a well-rounded technician, with an extensive familiarity with most problems he might encounter; and he works on all makes and models of automobiles.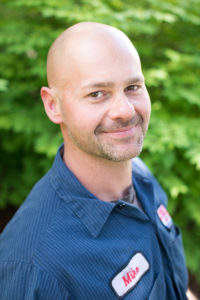 Mike Crumpton of Evergreen has 18 years of experience in the auto repair and maintenance industry, and he loves the challenge of a good electrical problem, whether it's a blown fuse, dead battery terminal, a faulty switch or a problem in the alternator. He's never far from his voltmeter. He also enjoys working on automatic transmissions, and hopes you will ask for him personally when you come to Lake Arbor Auto.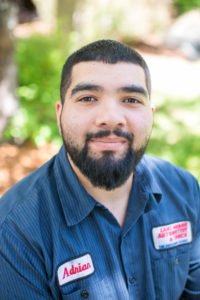 Adrian Garcia of Denver (originally from California) is one of Lake Arbor Auto's diesel emissions inspectors, but there is no limit to his interests and abilities. Here are just a few of his hobbies: creating music, hiking, fishing, basketball, reading and attending concerts. Of course, he has a huge interest in cars; and one of his favorite projects on his own time was the replacement of front and rear struts on a 1998 Pontiac Grand Prix GT.  Demonstrating his clear understanding of the LAA "Do the Right Thing" motto, he once made someone very happy when he found keys and a wallet at a movie theater and returned them to their owner.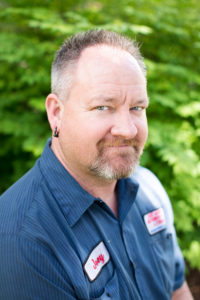 Joey Smith is a master technician with more than 28 years in the auto repair business, including his stint with Lake Abor Auto since 2016. He is Denver-area born and raised, currently residing in Northglenn with his three dogs, two ducks and one cat. He also has two adult children. Like several of his LAA garage-mates, he enjoys riding his motorcycle (a 2008 Harley Davidson). He can handle virtually any job that comes his way, but he is especially adept under the hood of a Honda, Acura and/or Subaru.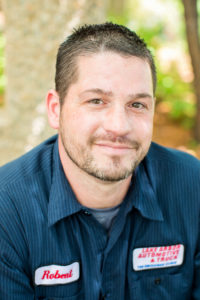 Robert Young has been a diesel emissions inspector since early 2018, and his love of all things automotive gives him almost limitless potential in the industry. He pursued the job with Lake Arbor Auto in part because, in his own words, he "wants to help the environment by reducing harmful emissions." It stands to reason, then, that his favorite pastimes are camping and fishing, where he can enjoy the environment that he hopes to protect. Originally from St. Charles, Mo., he lives in Westminster and has two daughters and a dog. He says his goal on the job is to do the right thing every time, every day.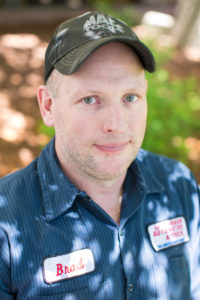 Brad Schuricht If you think your car has a complicated problem, count yourself lucky to have Brad Schuricht working on it. Nobody knows "complicated" like Brad, who spent four years in the military working as a jet engine mechanic. That six-cylinder engine knock has no chance against Brad. He is a certified Master ASE Technician, with more than 25 years in the business. He joined Lake Arbor Auto in 2018. A longtime resident of Arvada, he has two children, and he likes to go camping in his spare time.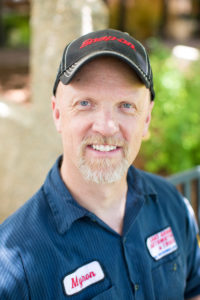 Myron Novacek is one of the more experienced auto technicians at Lake Arbor Auto and, indeed, in the entire North Denver area. He began repairing cars in 1984, the same year Toyota opened its first U.S. car assembly plant. A resident of Arvada with his two daughters, he is a Colorado native. When he's not in the garage, he prefers to be outdoors, engaging in a multitude of activities including hiking, biking, camping, fishing, snowmobiling and even kayaking. He started with Lake Arbor Auto in early 2018, and he was named a "Right Thing Award" Winner just three months later.
Apprentice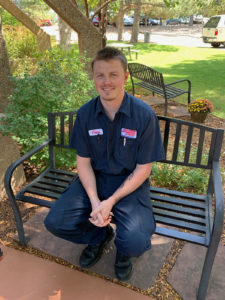 A recent graduate of Lincoln College of Technology (with high honors!), Chris Crotty was born into the auto repair/maintenance culture. His grandfather was even on the verge of a seat in the 1969 Daytona 500 – until Grandpa learned that Grandma was about to give birth to Chris' mother. He loves cars and other vehicles, including snowmobiles, and he spends a lot of time at car shows. He also enjoys a little golf, and hanging out with his girlfriend and their dog, Bella. A native of Arvada, he currently lives in Commerce City.
Administrative Manager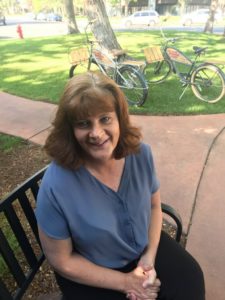 Her first accounting job was in 1991 when Tiffany Cox took a job alongside her mother at a car dealership. Tiffany eventually became the office manager. At Lake Arbor Auto, Tiffany handles all the books and all the back-office/support responsibilities. The famous Lake Arbor Auto "Right Thing" policy especially appeals to Tiffany. She once spent a cold and rainy afternoon in a retail parking lot helping a disoriented elderly gentleman get back in touch with his family. She is married with a son (Brodie) and a dog (Weezel); and they like to camp, fish and go four-wheeling.