For fourth year, Westminster shop participates in gift to Hope House mom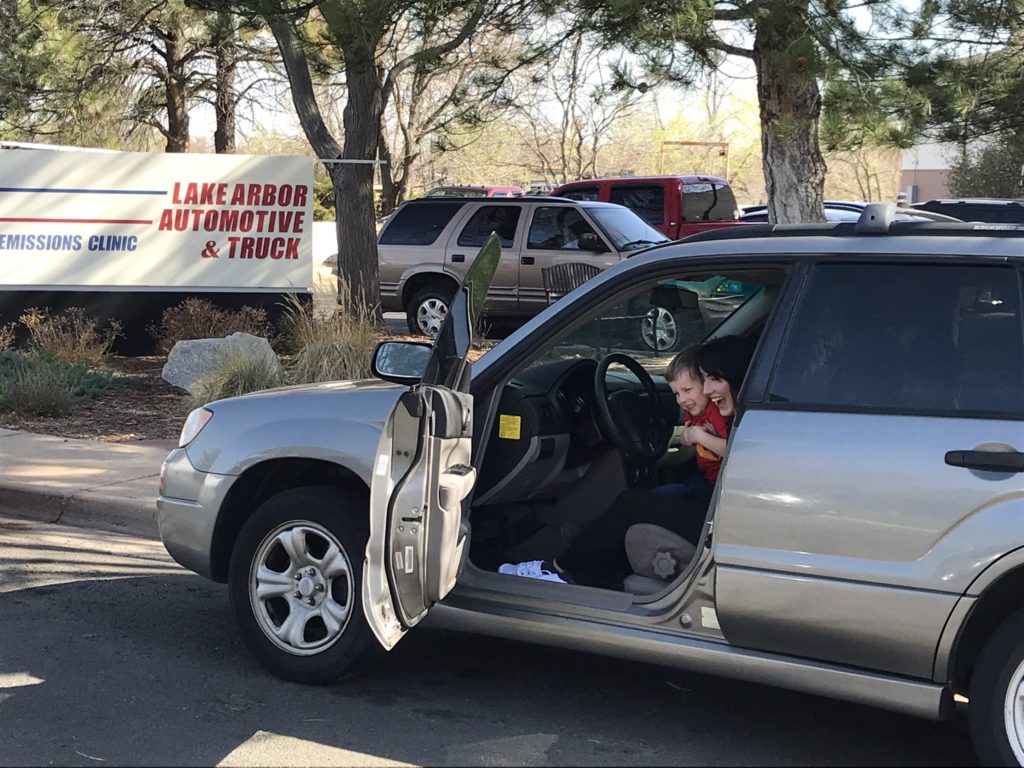 WESTMINSTER, Colo. (May 7, 2020) – As the coronavirus pandemic has magnified hardships for teen mothers, Lake Arbor Automotive & Truck announced it has participated in the donation of a vehicle to a graduate of Hope House Colorado in Arvada.
It was the fourth straight year that Lake Arbor Auto of Westminster has helped present a car to a needy single mom in celebration of Mother's Day. This year's vehicle, a 2006 Subaru Forester originally owned by Nick and Jenny Macias, was repaired and made road-worthy by Lake Arbor Auto master technician Joey Smith. Jenny is the program director at Hope House.
The car was received by Jessie Tunis, 23, who has three sons: Anthony, Jeremiah and Axle, ages 6, 4 and 2.
"We empathize with the young mothers who have so many responsibilities, with very limited resources to meet those responsibilities," TePoel said. "The difficulties become far more challenging during these times of coronavirus quarantine and economic hardships. We wish Jessie and her sons the best."
TePoel said he hoped the vehicle would help eliminate Jessie's need to expose herself and her children to crowds on public transportation.
Hope House Founder and Director Lisa Steven said she was thrilled to see Jessie receive this Mother's Day support as Jessie, a hairstylist, continues on her path of self-sufficiency.
"Lake Arbor Auto has been an invaluable partner throughout the years, from providing car repairs for teen moms, to sponsoring our 5K, to helping install car seats on occasion!" she said. "Business partners like Lake Arbor Auto make a tangible difference in the lives of our teen moms, empowering them to break the cycle of poverty for two generations."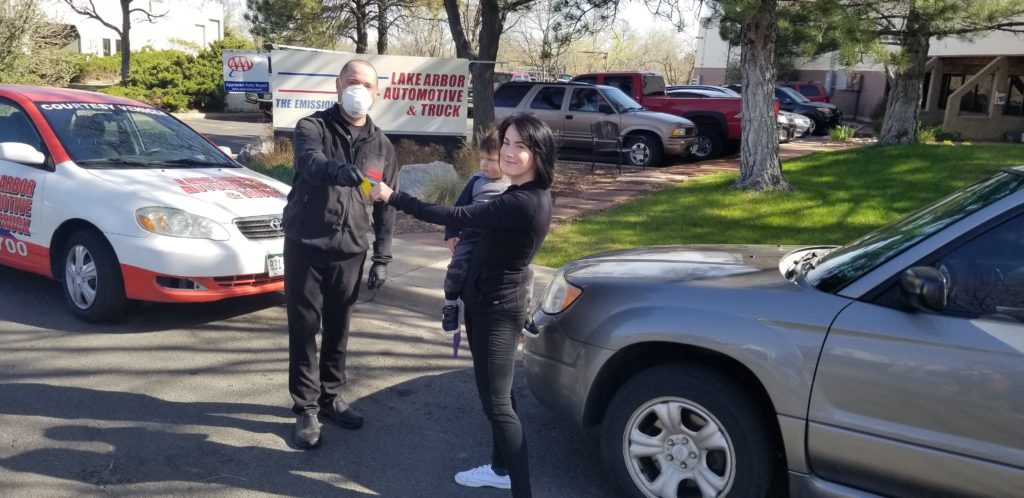 About Lake Arbor Automotive & Truck
Founded in 1992 as the Emissions Clinic, Lake Arbor Auto moved in 2006 to its current location at 9146 Marshall Place in Westminster, Colo., with a state-of-the-art facility designed for maximum customer comfort. Lake Arbor Auto won seven significant awards recognizing its commitment to business ethics including the Bill Daniels Ethics in Business Award from the Colorado Ethics in Business Alliance, Better Business Bureau's Torch Award for Marketplace Trust and Golden Ethics Award. A recipient of multiple BBB Gold Star Awards, Lake Arbor Auto has also won the Colorado Community Media's "Best Auto Repair Shop" award for nine of the last 10 years. Lake Arbor Auto is a Triple-A approved repair shop, and the AAA named Lake Arbor as one of Colorado's top 12 shops in 2018. Lake Arbor Auto has the ASE Blue Seal of Excellence with six ASE-certified Master Technicians on staff, and it is an ASA (Automotive Service Association) national and state member. It is the highest volume emissions repair facility in Colorado, and is a member of the Association of Diesel Specialists. For information call 303-429-7700 or go to www.lakearborauto.com. "We do the right thing for you every time."
About Hope House Colorado
Hope House Colorado is metro-Denver's only resource providing free self-sufficiency programs to teen moms, including Residential, GED and College & Career Support services. Additional supportive services include parenting and life skills classes, healthy relationship classes, financial literacy workshops and certified counseling, all designed to prepare them for long-term independence. Hope House relies on numerous volunteers and local business partnerships to accomplish its mission. Hopehouseofcolorado.org.